Our dive trips exemplify everything that our name suggests. Just Dive – we will do the rest!
Our trips are all about you – your comfort, your enjoyment, and your safety.
Following a complimentary pick up from any Seven Mile Beach location to the dive center, Mike and Steve will take care of your every need on board.
They'll set up your dive equipment, provide full dive site briefings, guide your dives whilst pointing out interesting critters and bring you back to the boat at the end of the dive so that you don't need to worry about navigating! They will then switch your gear over to a full tank so that it is ready for your second dive.
If you need any advice or are looking for tips on how to become a better diver, just ask! They are more than happy to share their knowledge and experience with you.
Our two tank trips usually start with a wall dive (maximum depth 100ft / 30m), followed by a surface interval where you can relax in the sun with the beautiful views of Seven Mile Beach. You'll follow that with a reef dive (maximum depth 60ft / 18m). Your complimentary dive computer will help you stay safe whilst diving – and count down that 3-minute safety stop for you!
Due to our small groups, we can tailor the trip to be more suited to your diving experience with two shallow dives, or we can accommodate any special requests (although we cannot reserve dive sites beforehand unfortunately!)
Once we return to the dock, you can just step ashore whilst the crew look after your gear, ready to be set up for the next day of diving after being washed and cleaned, before being taken back to your Seven Mile Beach accommodation.
For your safety, our boat is fully equipped with emergency oxygen, first aid kit, marine VHF radio, life jackets and a fire extinguisher in the unlikely event that they should be needed.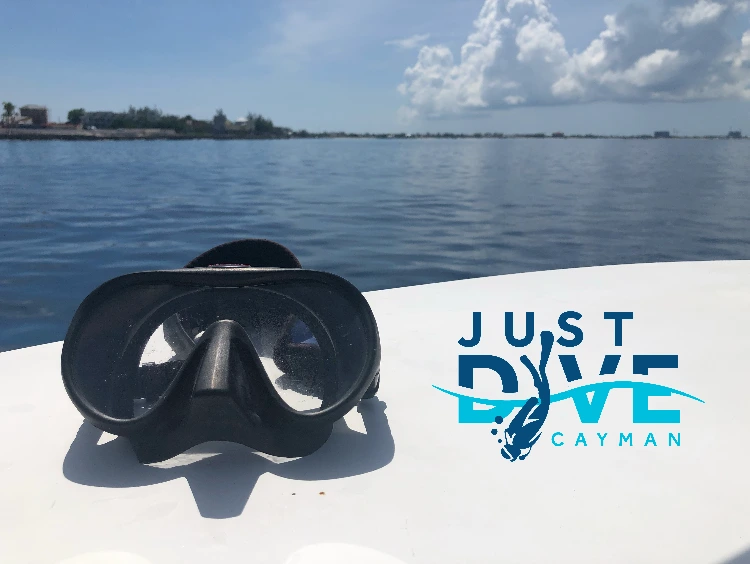 Diving for Cruise Ship Guests
Here at Just Dive, we have worked extensively with cruise ship passengers, and we schedule our departure times to be more "cruise ship friendly" than many companies. When we are a 3 minute walk from the cruise ship terminal, it would be crazy not to! We run with small groups – perfect for guests who prefer something a little more bespoke than the trips offered on board. Whether you jumped on a cruise as the most effective way to dive a few different countries in a short period or are simply excited to dive in Cayman during your brief stay, we can certainly accommodate you.
Our close proximity to the port means that there is no delay to the start of your dive experience. Without needing to rush, our trips last approximately 3 hours and we will deliver you back to the dock in plenty of time for you to grab some lunch or simply get back onto your ship early.
On January 5, 2011 following seven years of planning and preparation, the ex-USS Kittiwake was successfully sunk in a protected marine park off the northern end of Seven Mile Beach. She was the first US Navy ship to be given to a foreign government.
At 251 feet long with a 44 foot beam, she is one of the largest shipwreck attractions anywhere.
There are a number of decks with safe and easy access into the interior where divers can visit the recompression chambers, the engine room, the bathrooms and shower unit, the galley and crew quarters, and the chart room and captain's bridge, to name but a few.
The wreck no longer sits upright on the white, sandy bottom as Tropical Storm Nate in 2018 led her to lie at a 45 degree angle. Colonies of garden eels inhabit the sand around the wreck, bringing in plenty of stingrays around the wreck. Schools of horse eye jacks and huge, lonesome barracuda hang silvery and motionless near the mast. And with each passing year, new corals and sponges encrust the wreck, bringing with them more marine life that wants to make it home.
Designed as a submarine support vessel, the USS Kittiwake was built in Savannah, Georgia, USA, launched on 10th July 1945, and commissioned on 18th July 1946.
As a military vessel, many of her missions were classified, however she was first assigned to support and rescue duty with Submarine Squadron 6.
In the 1950s, she was stationed in the Atlantic and served 'silent service' ships. In July of 1960, the USS Kittiwake stood ready to assist the George Washington, which launched the first successful Polaris ballistic missiles.
During the 1960s, she continued to support submarines in Rota, Spain and Greece. She then assisted with search and recovery of torpedoes while stationed in Norfolk, Virginia. In late 1965 the Kittiwake assisted in the recovery of a German submarine (S-171).
In 1984 the Kittiwake collided with the attack submarine, USS Bergall. The cause was attributed to a mis-wired main drive which caused it to operate in the opposite direction than expected. The bridge personnel saw the submarine approaching and ordered an increase in speed to avoid the collision, to no avail.
Other notable missions included recovering the black box from the Space Shuttle Challenger disaster in 1986, before an altercation with a Greenpeace vessel – protesting a Navy Trident missile test in 1989.